Oversize transport, although this can be surprising taking into account the weight and dimensions of transported goods, is carried out on tyres having a diameter of 205cm. And it is the size of tyres that may cause failures - tyres can't handle sharp turns and heavy loads. The vehicles used in oversize transport, due to their size and non-standard stacking of the loads, on some road sections move at a speed of 3 km/h
Such slow movement often causes punctures. When you drive a nail escape of air is initially blocked but at higher speeds, which can rise to 75 km / h, starts a process of slow leak. Heavy axle load can cause unexpected tyre blowout and due to close proximity of a large number of tyres it may appear a domino effect of additional 3-4 explosions. When we take into account a non standard number of axles used in the modules, where in one there are eight wheels, and in some vehicles it can be from 2 to 4 axles fitted with 16-32 wheels, we quickly realize that one vehicle can have up to 200 wheels.
PROJECT OBJECTIVES multiTPMS
The system allows for unlimited combinations of tractors and semi-trailers. In one road train it is possible to monitor up to 200 wheels in a standard version and even up to 480 wheels upon request.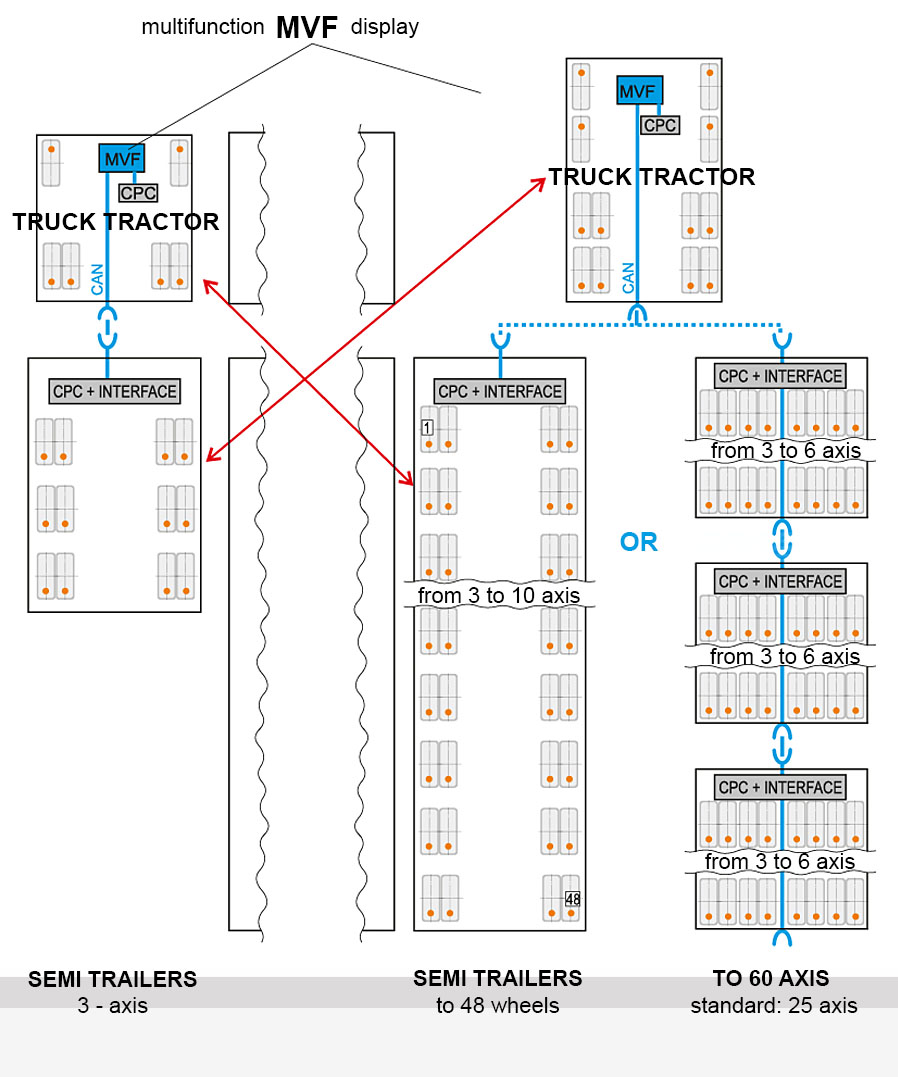 from 2 to ∞ numbers of truck tractors in various configurations
from 2 to ∞ numbers of semi-trailers in various configurations



The main objective of the project multiTPMS was to provide the driver with quick and legible information on incorrect tyre pressure, and to enable him to make one - minute cursory control of pressure and temperature in up to 200 wheels (when driving) and detailed inspection of the pressure in every wheel, when the vehicle is stationary or by the second driver when driving. Neither Continental nor Drabpol, nor any other company is able to prevent a sudden tyre blowout. Fortunately for all road users, sudden blowouts comprise only 3% of tyre failures, the remaining 97% is related to a slow air leak, which continues until the heat limit is exceeded, then the tyre explodes. Taking this into account, the main aim of the project was to provide the driver with two alert thresholds concerning tyre status.
The idea is that the system doesn't distract the driver from the most important task, which is a safe transport of goods. The aim of our cooperation was to provide the driver with quick and legible two alert thresholds concerning tyre status. From the beginning the "Panas Project" has gone beyond any framework. Number of wheels and axles in advance excluded stand-alone application of a standard TPMS set. Switching of semi-trailers and no differentiation between their front and back required automatic identification of semi-trailers and wheel system by a computer. The problem with tyres in oversize transport could not be solved by well-known TPMS systems (Tire Pressure Monitoring System) available on the market or even by so precise device like TPMS system.
Above mentioned Development and Support Department was created for the purpose of such projects in which we show the difference between a vendor of systems and a value-added reseller with a technical activity profile. We have worked on this project for several months.
REALISATION OF THE PROJECT
For realisation of the project multiTPMS we used:
1. Selected elements of ContiPressureCheck
– basis for control of tyre pressure and temperature,
2. 7'' Continental MVF Multifunction Display
– touch screen with a switch equipped with proprietary software of Drabpol,
3. MPCB System (Multi Purpose Controller Bard System)
– a proprietary solution of our Development and Support Department, constituting a universal system.
Moreover, our engineers have created software, which visualizes to the driver all information related to the dumpers and tyres.
UNIVERSALITY OF THE multiTPMS SYSTEM:
every standard TPMS system is equipped with Central Control Unit CCU. This device is responsible for remote data collection from sensors mounted in the tyres and transmission of such data to the display. Mentioned in point 3. multi TPMS is responsible for collecting data from numerous CCUs and presentation of these data on the display as one segment divided according to the actual appearance of the set. The differences in the number of axles and wheels required standardization of the number of central control units (CCU). This decision was necessary due to the universal nature of the system, which enables constant switching of trolleys and moving the MVF display from one vehicle to another. We finally used a fixed number of two CCU units, so the system can easily recognize any threats in the tyres. The whole set (MVF + 2 CCU + MPCB) was made according to IP 67, which protects it from the impact of external factors.
That universality was one of the key functional aspects of the project on the side of Panas Transport company. In practice, this allows for any combination of trolleys in order to get a whole set without analysing how they should be connected. It is the system that conveniently groups dumpers and numbers all trolleys, so that data for the driver can be clearly illustrated. There are 1000 wheels in Panas Transport's fleet. The temperature and pressure measurement involved 200 of them, working in sets in which one axis has 8 wheels.
It is a temperature, not pressure, that first allows us to notice that there is something wrong with the tyre. TPMS sensors mounted inside the tyres are resistant to any kind of corrosion or external factors. Information comes from the heated tyre, not from the mechanical damage. The temperature in the wheel during operation ranges from + 70oC to +85oC, whereas devocalization occurs already at +92oC for vulcanised tyres and over + 125oC in case of the highest quality tyres. Since we are able to draw the information directly from the tyre, we are notified in case of real danger when the temperature varies by 50oC (between 85 and 90oC) and prevent costly consequences.
---
related to the article:
multiTPMS an investment for oversized transportation
information for drivers in the oversized transport in multiTPMS system
the opinion of the owner of PANAS Transport company on Drabpol's innovative solution
the impact of multiTPMS system on security, economy and ecology