At the invitation of the Polish Nationwide Association of Oversize Load Carriers (Ogólnopolskie Stowarzyszenie Przewoźników Transportu Nienormatywnego) our company, as an official member and one of the partners, participated in the third Conference.The Conference, which took part in Ołtarzew was accompanied by General Meeting of OSPTN. This year's session gathered over 120 participants from all over the country.
Conference participants were welcomed by Mr. Łukasz Chwalczyk – president of OSPTN. During the meeting there were discussed issues that the oversize branch has to face. There was a presentation of essential changes in law related to oversize transport, pilotage, lifts, and definition of semi-trailers. One of the items on the agenda was presentation of the conference partners, including our company. We realize the problems which the oversize transport faces when it comes to wheels, frequent wheel changes and as a consequence supply stoppages– thus in our presentation we focused on the multiTPMS project, which is addressed to this kind of transport. This project, developed by our Design & Support Departmen, involves pressure and temperature control over 480 tyres in only 2 minutes. This solution has been already tested by Panas Transport company, which of course had its representation on the meeting. Panas Transport was the first company from the oversize transport branch which applied our system in its vehicles.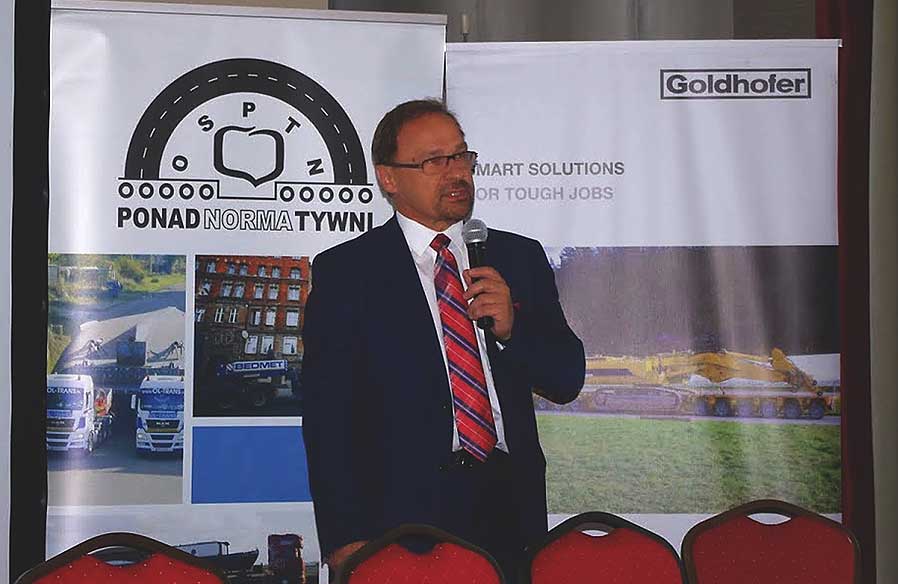 The presentation was led by Mr. Pawel Drabczynski who introduced system's operating principle and different ways of installation. The main principle of the system is simple installation, assembly of a set has to be quick, regardless the number of trolleys. Also the information on the screen has to be easy, fast (in 2 min. up to 480 tyres) and clear. Four colours enable the driver to get the full information on parameters related to pressure and temperature in each tyre. During his speech President Drabczyński presented different sets and their possible combinations.
The system allows for unlimited combinations of tractors and semi-trailers, moreover it groups, numbers the trolleys and then displays this information on the screen.
At the end we stressed that for the carrier multiTPMS does not mean a cost, but it is an investment which will return after 2 years, and one that during 6 years will result in large financial savings - and consequently - a real gain. Our presentation was well received by the conference participants, who agreed that our system may be a perfect solution for oversize load trucking companies.
In addition, we had our own information and presentation desk where conference participants could learn more about multiTPMS system. Demo version of our solution made the whole process of getting know our product much easier. On our "stand" we were pleased to meet with Mr. Przemysław Panas, the owner of Panas Transport company, who was eager to share with others information of what TPMS system gave him after several months of use. We want to stress that during the conference, Mr. Przemyslaw Panas was honoured for the long-term commitment and support to the actions undertaken by the Association. Congratulations on that success!
Our guest was also Mr. Wieslaw Bednarz – CEO of BEDMET company, specializing in the oversize transport. The conference was also an opportunity to meet with Mr. Krzysztof Bartosik from Faymonville company, with whom we had already met at Bauma, Munich. At the conference in Ołtarzew, like at the trade fair in Munich we visited a stand of Goldhofer company- a manufacturer of semi-trailers for heavy transport, which was also one of the partners of the conference. We also met with representatives of Dutch company Nooteboom, a producer of semi-trailers and trailers for oversize transport.
At this year's OSPTN conference participants were surprised by the excellent attendance. Everybody was pleased to hear that the meeting of European oversize transport industry, which increasingly speaks with one voice and engages in the defence of its interests in Europe, will take place in 2017 in Poland.
Certainly, we will participate in this important meeting, all the more so as we have officially joined the Association, becoming its member. We would like to extend our gratitude to the Association for giving us opportunity to present our company during this year's conference. We hope that our solution in the field of tyre pressure and temperature control, which was dedicated to oversize transport, will help carriers solve the existing problems with tyres, and consequently bring tangible benefits.