For 14 years Solaris company has organized cyclic technical-workshop conferences known as Solarisposium. This special event is dedicated to users of Solaris vehicles and their technical and supply departments. Solarisposium also become a permanent fixture in our calendar. Therefore we could not miss the 46th edition of this industry event, all the more that this year marks the 20th anniversary of our cooperation with Solaris company.
Because of this round jubilee this year we became Solarisposium's main partner. The conference took place in a beautiful scenery of Janów Podlaski. It gathered a record number of people who are involved in purchase, maintenance and delivery of parts, trainings, and use of Solaris buses manufactured in Bolechowo factory. The conference participants could see our bus dedicated solutions during our 20 minute showcase. To start with, we recalled the beginning of our cooperation with Solaris company. During one of the first meetings held at our company's headquarters (in Częstochowa at that time), the owner of Solaris, Mr. Krzysztof Olszewski, said: "We build buses together with our customers." Over the past 20 years, our cooperation has grown very well. Today Solaris buses and trams are equipped with our solutions such as driver's workplace driver with onboard electronics system, air-conditioning units for drivers' cabins and passenger compartments ContiPressureCheck, tire pressure and temperature measurement system, fleet manager with driver trainer or USB charger.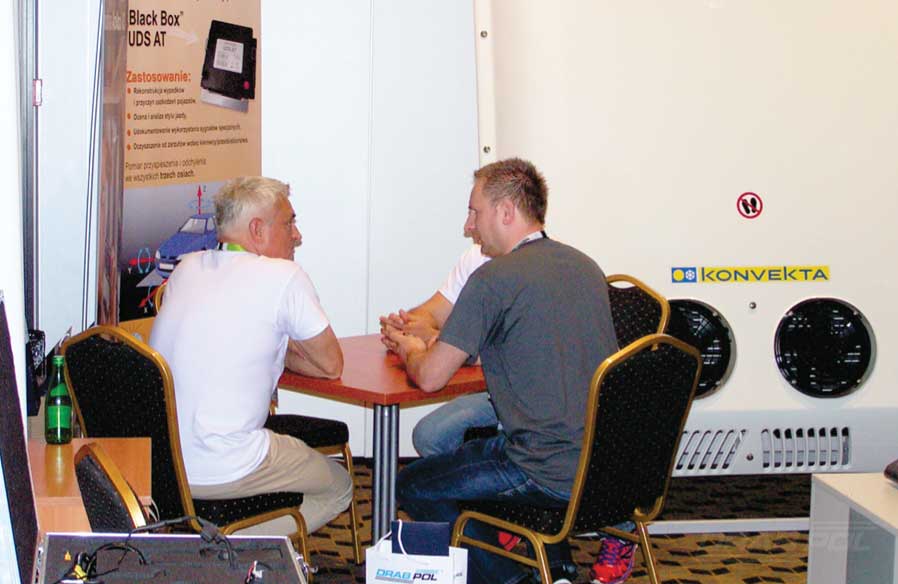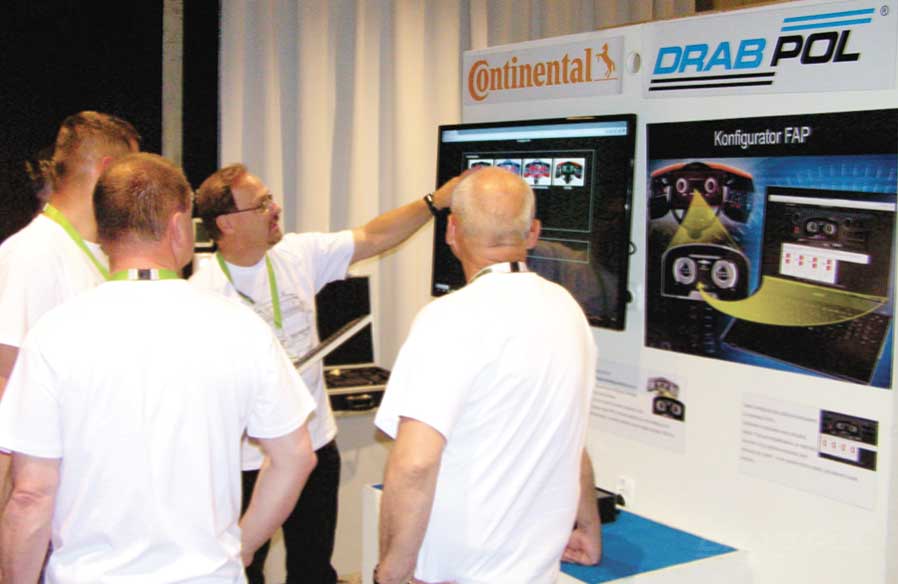 At our stand, which was the biggest at this year's Solarisposium, visitors could see all products dedicated to Solaris buses such as KL46T air conditioning unit, driver's workplace or FAP configurator.
During our presentation we devoted a lot of time to our flagship product for Solaris buses - a driver's workplace. We emphasized the importance of unification of driver's workplace in all buses. Standardization is not a monopoly, it is safety and economic calculation. Standardization contributes to elimination of occupational diseases and allows the driver to focus on the road rather than on the vehicle. It simply increases our safety in public transport. Our driver's workplace enables automatic setting of all driver's parameters within 30 seconds –by using data inbuilt in the unique driver's key, programmed to the body build. This obviously translates into comfort and safety. Our presentation also included other solutions dedicated to Solaris, such as Konvekta air conditioning units, CPC FM RIBAS system or USB. All presented products, and much more, were available at our stationary stand. A special display stand with mFAP and FAP configurator enabled visitors to test the systems - and what is also very important – design the board according to their needs and tastes. Each visitor had an opportunity to familiarize with the ProViu ASL®360 around vehicle monitoring system and see benefits arising from its use. Similarly as in the case of tire pressure and temperature monitoring system, also ProView met with great interest among the conference participants.
Visitors were also impressed with an exposition of KL 46T roof compact air conditioner. This device weights only 81 kg and is dedicated to coaches, interurban and city buses. During Solarisposium our stand was visited by many guests and representatives of Solaris, transport companies and public transport companies. Additionally, on the outside all conference participants could visit our presentation vehicle equipped with FAP + driver's workplace with MVP display, which has been supporting us in presentation our solutions for over a year. Of course, all work and no play makes Jack a dull boy. As always, Solarisposium was full of unforgettable attractions and team-building games, accompanied by elements of healthy competition and a friendly atmosphere. This year participants were divided into groups, which were searching for " Knight Solaris' Treasure". Searching was strenuous but luckily the treasure was found. This year's conference included a performance of the K2 cabaret, a horse show and a folk performance. Because of the meeting location, we could not miss a visit in the famous stud farm in Janów Podlaski.