Every year, in the second Friday of May all professional drivers will celebrate Driver's Day. This year's celebration at Port Radomsko, organized by association of Polish trackers (Stowarzyszenie "Klub Polskiego Trakera"), attracted many participants – including our representatives. By that time professional drivers had met at different times and various events.
But eventually the world's largest organizations: IRU (Interntionale Route Union), bringing together road carriers and UICR (Union Internationale des Chauffeurs Routies) gathering truck, vans and bus drivers, decided to add the driver's day to an occupational holidays calendar. For many drivers this is undoubtedly an important event. This year's historical initiation of the driver's day in Poland took place at Port Radomsko.
Participants could choose between numerous attractions and take part in various competitions: for the best TIR driver at scale of 1: 14, the best virtual truck driver or the best MAN driver on precision. During the meeting drivers had opportunity to enhance knowledge which is useful in their everyday work. Thus, we were pleased to welcome them at our stand.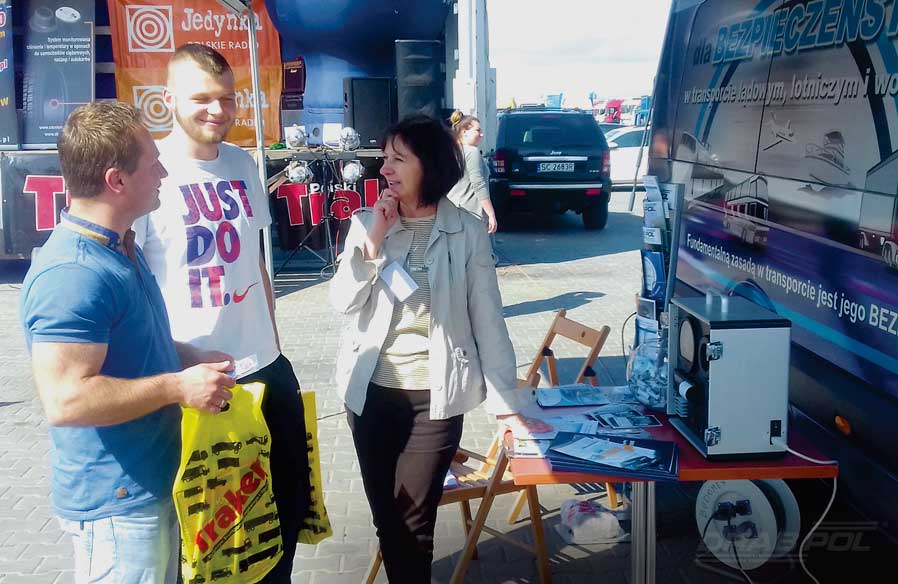 Systems presented at our stand were strictly dedicated to the drivers - demobox with digital tachograph 2.2,tachograph accessories – tachograph charts and paper of our brand or DTCO SmartLink, created to facilitate everyday work behind the wheel. Thanks to DTCO SmartLink a driver can fully operate a tachograph by means of his smartphone Many drivers took the opportunity to participate in short trainings on maintenance of digital tachograph DTCO 2.2. We also promoted our Laboratory of Tachograph Records Analysis and tire pressure and temperature monitoring system ContiPressureCheck. A festive celebration of driver's day ended with a concert by Fajerwerk. This year's holiday can definitely be considered a success. Driver's day celebration was accompanied by the appeal of he world's largest driver organization UICR to attach a yellow ribbon to the mirror or radio antenna of a vehicle, bus or bicycle handlebar on 12 May. This symbolic gesture will express solidarity with all professional drivers and show them our respect and gratitude for their hard everyday work.