The debut of the international trade fair Warsaw Bus Expo took place in the middle of March. The first edition of this exhibition brought together a large group of manufacturers of buses, components and innovative solutions for public transport. Among this group there was also our company. By courtesy of the organiser - PTAK Warsaw Expo company we were running two stands at this trade show.
Behind the wheel of the new driver's workplace mFAP sat among others Mr. Ryszard Chrostowski, President of MZK Ostrołęka.
Just after entering the trade fair hall visitors' attention was attracted by our presentation car. It was the place where our present clients and potential customers directed their first steps. After talks on the board of our bus and after getting familiar with many devices installed there our guests were guided to our stand. Our exhibition of products was more than 100 meter long and was strictly dedicated to the public transport. On the first plan there was the newest driver's work place mFAP, which experienced a real siege. By sitting behind the wheel of the new FAP we relocated to another dimension in terms of driving.
At the stand we also presented pressure and temperature measuring system for tyres, vehicle around preview monitoring system or telematics systems.
Any visitor to our exposure could also experience a bit of relaxation and rest, provided by wide capability multimedia systems, with built-in headrests monitors available on 4 seats.
Due to in built-in USB chargers available on a special railing, our guests could also recharge their mobile devices. All those who had any doubts concerning their sobriety could test themselves with a professional alcohol interlock Alcolock V3. There were many volunteers.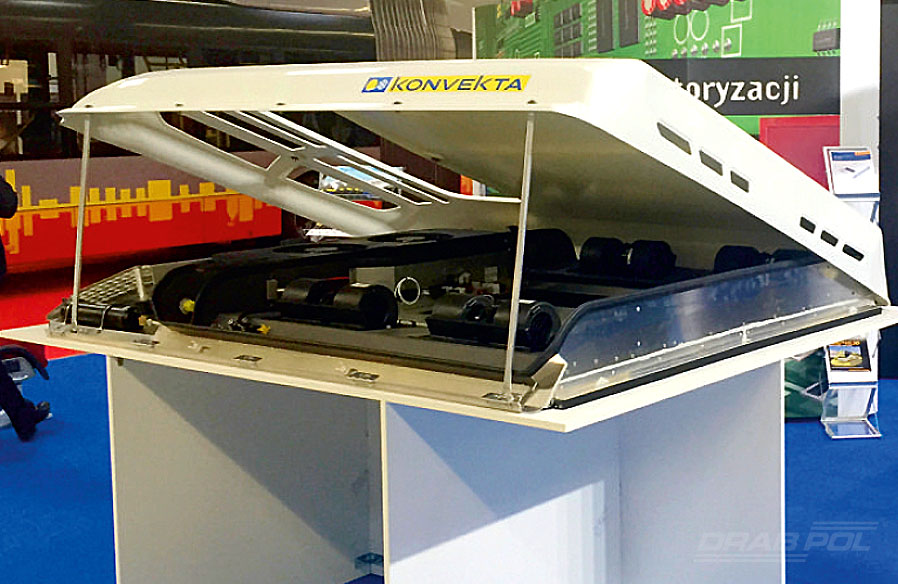 Additionally to our reach portfolio directed to public transport, we presented Konvekta KL 48 T air conditioner, dedicated to buses.
Without doubt we can say that this year's debut was very successful. Our exhibition stand was visited by a large group of existing and new customers. We are pleased to host the representatives of television program "Na Osi", in which we had the pleasure to show our solutions. The coverage from our exhibition stand as well as from the whole trade fair will be soon available on "Na Osi" programme, broadcasted on Motowizja and TVR television. We will present our comprehensive offer for public transport once again at the Autumn trade fair - Kielce Transexpo.