At this year's trade fair in Munich we not only visited our German partners. We arrived at Bauma to promote our innovative project related to tyre pressure and temperature control in oversize transport - multiTPMS. This project is a part of a bigger system for oversize transport, which supports drivers in their everyday work. Bauma provided an excellent opportunity to establish new contacts with manufacturers of semi- trailers dedicated to oversize transport.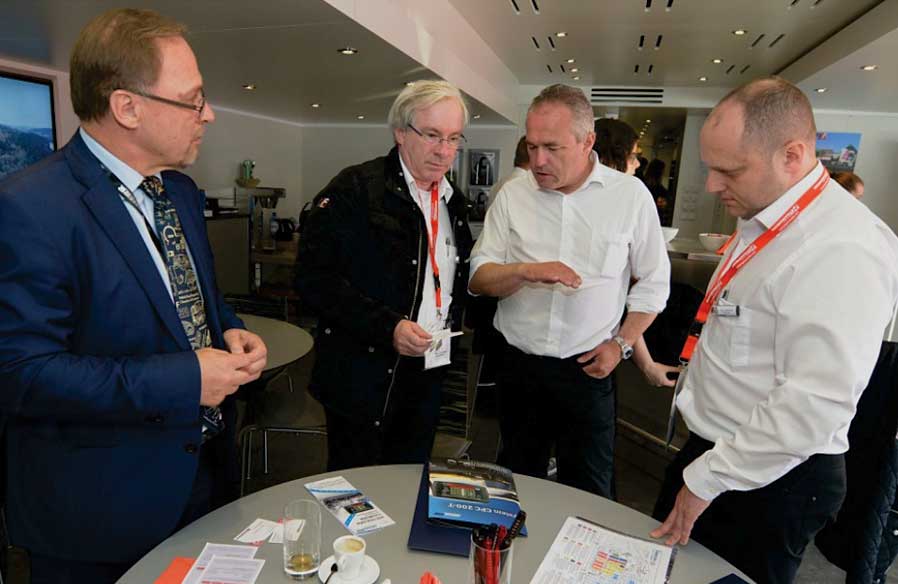 On the second day we visited a stand of FAYMONVILLE company, which is one of the leading manufacturers of semi-trailers used in oversize transport. It was a pleasure to meet with representative of FAYMONVILLE Polska company from Goleniów: Mr. Krzysztof Bartosik, who is in charge of the sales on our market, as well as to meet with Managing Director of FAYMONVILLE - Mr. Alain Faymonville and Technical Director, Mr. Guy Fickers. It's worth noticing that production facility which has been existing in Goleniów for several years largely determines the success of the entire company. The success consists of sale of approx. 100 differently configured semi-trailers to oversize cargo carriers.
We would like to thank for warm welcome and constructive discussion concerning possibility to equip semi-trailers with elements of multiTPMS, system (tyre pressure and temperature control) at the stage of production. This will lead to reduction of costs for the end customer - the carrier. Buying a semi- trailer equipped with sensors, the MPCB system and the central control unit (CCU) will allow the carrier to gain full control over the tyres and, as a consequence, provide effective transport management. Of course, it is necessary to equip the truck tractor with multifunction display and other sensors.
At this point we want to stress that in the near future apart from information concerning tyre pressure and temperature it will be possible to display information related to axle load. Our Development & Support Department has already developed a concept of load measurement. At Bauma trade fair we presented our solutions in the frames of multiTPMS system also to companies such as Goldhofer - manufacturer of semi-trailers, HUMBAR, Wielton or DOLL.
Thank you all for your hospitality and constructive talks, which hopefully will result in fruitful cooperation in the future.