Concurrently with Transexpo in Kielce, it was held also the International Rubber and Tire Expo RTE. It was accompanied by the second edition of Tire Forum, during which we had a pleasure to deliver two lectures on tire pressure and temperature monitoring systems dedicated to buses. We would like to thank the organizer – tire industry magazine "Świat Opon" – for the invitation to participate in the Forum.
This year's Tire Forum, as well as its first edition, has received good reviews from both the guests and the speakers. This two-day conference covered the most important topics related to tires, including servicing, additional services provided in tire service or sales of tires on the Polish market. One important issue has also been raised, such as TPMS sensor system. The issue of pressure and temperature control in tires was the subject of presentation, which was given on the first and second day, by Jerzy Piatek - the Sales Director in our company. Following this conference, its participants could visit our stand at the neighbouring Transexpo fair, where our ContiPressureCheck system was being presented.
Pressure and temperature control in tires
The improvement of driving safety and economic reasons have determined the actions of public transport enterprises in terms of pressure and temperature control in bus tires. Tire working conditions in urban traffic differ from those occurring in trucks, which perform long domestic and international carriages. Tires of buses are exposed to frequent impacts, scraping on the curb, as well as other damages as a result of bumps in roads and lay-bys. Moreover, frequent starting and stopping of vehicle have a significant impact on faster tread wear. In order to meet tire requirements in urban traffic, the manufacturers of tires are providing special tires with reinforced sidewalls, resistant to frequent speed changes and meeting the relevant noise level standards. However, only their proper exploitation, especially proper tire pressure, allows safe driving and high-mileage. Moreover, proper tire pressure allows to reduce fuel consumption ,as well as operating costs and air pollution. Therefore, public transport enterprises are paying more and more attention to checking the tire pressure in buses. This is performed by means of manometers while daily operations and in bus depots. It is not an effective method and does not fully secure the proper monitoring of tire pressure.
Systems for monitoring pressure and temperature in bus tires can be divided into two basic groups:
- systems permanently monitoring pressure and temperature in tires
- systems controlling pressure in tires on the area of bus depots, usually at the end of the route
Measurement data visualization on a dashboard
For manufacturers of buses, our company offers ContiPressureCheck (CPC) system for monitoring pressure and temperature in tires with full visualization of parameters on a dashboard. Data is sent, on a currently basis, from sensors installed inside the tire to the central receiver (Engine Control Unit – ECU). This module processes data, gives warnings and sends them to the dashboard in a bus cabin.
Visualization of pressure and temperature measurements in tires on a dashboard allows the driver to control the tire condition on all axles, and most importantly, in real time. In the case of pressure loss or temperature rise in one of the tires, a driver immediately receives an appropriate warning (alarm and information on a dashboard).
Our project - ContiPressureCheck visualization on a dashboard.
Then, the driver can take the immediate corrective actions– the information that there is something wrong with the wheel can be given to the central office, which may speed up the removal of fault without excluding the bus from timetables (company saves money because there is no need to send a backup bus, no penalties for delays, etc,). Such precise monitoring improves comfort and driving safety, prevents from premature tire wear and lowers the risk of tire failures, e.g. allows to avoid improper tire inflation or tread separation. ContiPressureCheck solves problems which lead to costly downtime, possible penalties, loss of image, and as a consequence even to, sales decrease among companies dealing with public transport. What is important, ContiPressureCheck does not only give precise pressure and temperature values, but for fleet operators is also a valuable performance indicator in fuel and tires management. Moreover, CPC system cooperates with the fleet management system of MiX Telematics company. This way, a fleet manager, technical service or a dispatcher have full information about condition of vehicles, and in case of tire failure, they may immediately take appropriate steps to remove the fault, assign a replacement bus, etc.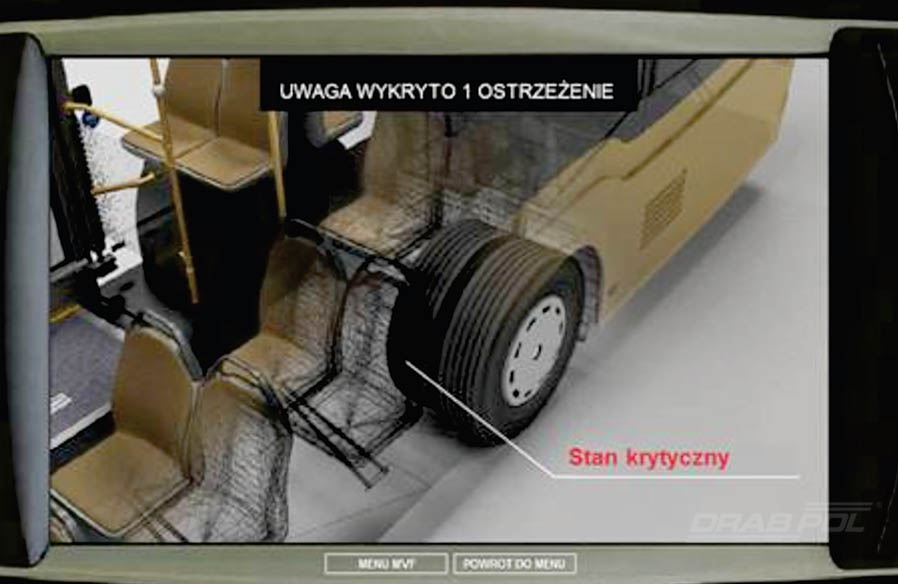 Our project - ContiPressureCheck visualization on a dashboard.
Our company has developed the system controlling pressure in tires with displaying information on a dashboard in cooperation with R&G company. Both solutions have been applied in many public buses, for example: Solaris, Autosan, Ursus, Volvo, Scania, AMZ, Mercedes.