According to our trade fair tradition, at the end of May we take part in the Air Fair in Bydgoszcz. At this event, which is very important for the whole community, we present our innovative solutions for both the civil and military aviation sectors.
This year we have been promoting our aviation products together with our partners from L3 Wescam, Honeywell / BendixKing and Enersys. At our stand visitors could acknowledge with L-3 Wescam, imaging system, ideal for low-altitude tactical missions and the SARMX 10 missions. This device combines a daylight camera, the Light Field Camera and a "spotter" camera, giving an effect of the maximum approximation of the image, etc. The camera is used, among others, by a Police as a monitoring system. The device will detect units from a distance of 3 or 4 kilometers and will register the vehicle registration number from a distance of several kilometers. In the case of the MX 15 camera, these numbers will be doubled, but unfortunately with an increase in costs. The offer also includes the MX 25, where number 25 corresponds to territory with a diameter of 25 inches – this is more than 50 centimeters. From an offer of our second partner, Bendix King we promoted the new KX 165 Alfa Nav/Com radio, which complies with 8.33 kHZ separation requirements with integrated NAV / COM set and KT 74 transponder with ADS-B out. This transponder provides fast and cheap upgrade in place of older KT 76A / 78A / 76C transponders. It can be quickly and easily installed in our Avionics Service Center in Modlin.

"We are now focusing on products dedicated to aircrafts. Together with our partners from Drabpol at the Air Fair we promoted the MX-10 camera. Here the camera is smart enough to know where to record the image. If we add the map, it would be possible to see directly where the target is and where the aircraft is located. The camera provides the highest level of accuracy. The device will detect units from the distance of 3 or 4 kilometers and will register the vehicle registration number from a distance of several kilometers. This means that you can even determine the speed at which vehicles travel. This system has been certified in Spain, which means that if an aircraft detects excessive speed of a vehicle, the driver may be given a fine by post. Many installations have a number of additional features such as radar, moving maps, tracking capabilities of aircraft or boats."

Mike Rogers
Director of Business Development L-3 Wescam

Watch the video
---

"At Drabpol stand during this year's Air Fair we jointly presented KX 165 Alpha with 8.33 kHz channel spacing and NAV / COM. If you already have a Bendix/King, radio like KX 155, 165 or older, an installation of the device is just a plug replacement. Thanks to this our Drabpol colleagues can quickly replace old radios and install new ones Now the radio .is available only in 28 V version, which can be problematic in case of smaller aircrafts. However, we have already found the way to transform 28V devices into 14- or 12 V, so the device will also be used in smaller aircrafts."

Vojtech Podhradsky
Inside Sales Representative, BendixKing

Watch the video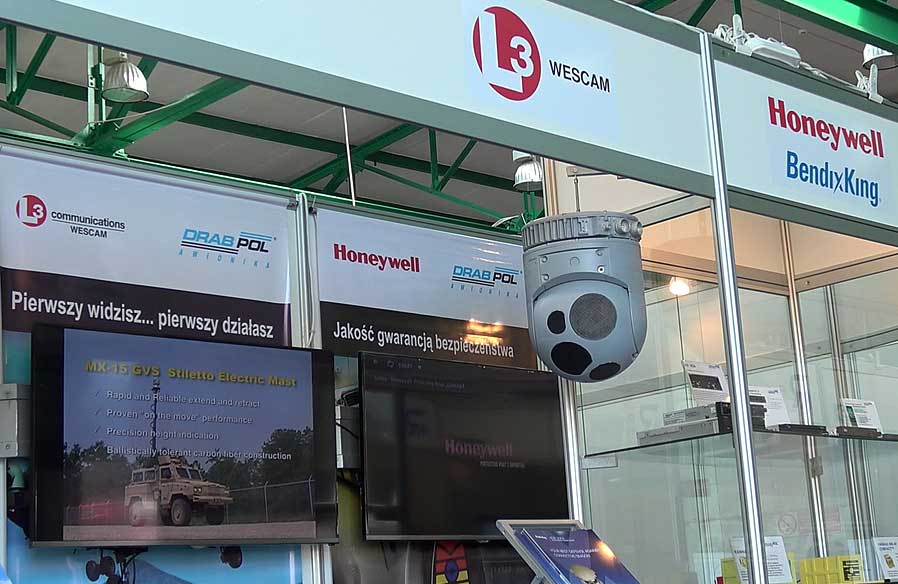 Thanks to cooperation established with Appareo we presented for the first time the Appareo Vision 1000 – the FDD system (Flight Data Recording) for every type of aircraft. It records space position data (tilting, sloping, deviation, etc.). It has a built-in WAAS GPS receiver, which records the longitude, latitude, ground speed, vertical speed, and GPS altitude. The system enables video recording of the situation in the cockpit and voice recording in the cabin. Dedicated software provides opportunity of playing the recorded flight in 3D with audio and video synchronization from the cockpit.
An important part of our exhibition was devoted to Enersys nickel-cadmium batteries, which we have been promoting together with the manufacturer's representative, Mr. Valerie Raiswisch, who has participated in the Air Fair for many years. Our long-term participation in Air FAIR is also appreciated by the organizer - Wojskowe Zakłady Lotnicze nr 2 (a military aviation facility no.2). For our comprehensive production- and service offer, our company was awarded the AIR FAIR honorable mention and commemorative medal. Awards were presented to laureates during a special ceremony on the first day of the trade fair.