For the third time we have visited Gdańsk to present our solutions during the largest and most prestigious event for the railway industry in Poland - TRAKO fair. Year by year our offer for this sector becomes increasingly popular among carriers, as well as rail vehicle manufacturers. This year, for the first time, we presented a fully functional wagon positioning solution dedicated to railway market – GPS 15.
GPS15 is a system, which in certain intervals sends information concerning wagon position. Working only on batteries it doesn't need a power supply or external antennas so it can be installed in any place. Thanks to GPS15 wagon owners can save even 2-3 weeks of their work (searching wagons) and respond more quickly to customers' needs. The system allows for more efficient goods supply and enables control over work of the locomotive engineer (operator), who in most cases is an external worker.
We promoted Enersys batteries dedicated to the railway market together with Mr. Michał Ignaczak, the representative of a producer.
At our stand we have given much attention to presentation of batteries, which are specially dedicated to the railway market. All promoted batteries, like ZemaRail, Evo Rail and Perfect Rail are maintenance-free and characterize with compact design and combine high efficiency and energy density. Zema Rail series with TPPL technology merits special attention. ZemaRail 190 and ZemaRail DS 214 models, which were presented at our stand use TPPL technology with 99.9% purity lead-tin plates and highly compressed AGM separators. Thanks to this, we receive superior cranking power and deep cyclic characteristics of 400 cycles to 80% depth of discharges. The offer in the field of batteries was supplemented by the Enersys WiIq system - a wireless diagnostic module for the above mentioned devices.
Many visitors were interested in USB chargers. During Trako trade fair we presented a wide range of installation kits ready for handrail, headrest of the seat or vehicle wall montage. As we can all observe USB chargers become increasingly popular in buses, trams or SKM trains. They are regularly installed in vehicles of the rolling stock manufacturers like Pesa or Newag. At our stand we had opportunity to talk to engineers from the above mentioned companies about placing the USB charger on a locomotive panel. We have already presented a specific solution with this regard.
For many years now, we have been supplying sensors and indicators from CANcockpit-min series to modernizations of rail-buses performed by Pesa. A wide range of such devices were exhibited at our trade fair stand. Moreover, we presented FlexCluster, an instrument cluster, programmed and configured according to customers' needs and preferences. It is worth noting that the FlexCluster display together with our software has already been used in two MAVEX-REKORD railway vehicles from Raciborz. These were setup vehicles with an auxiliary crane for the Warsaw Metro. Recently they have been joined by the auxiliary motor trolley WMB-10 MAVEX-REKORD, in which all information necessary to control the vehicle are available on the FlexCluster display.
Traditionally, at Trako trade fair there was also a presentation of Funtoro. multimedia solutions. In headboards of two free-standing armchairs we presented 10-inch monitors, which are dedicated specifically to railway carriers and meet high safety standards. Seats with built-in multimedia players became a true hit not only at our stand. As the only company at Trako trade fair, we offered such solution to the manufacturers of trains, wagons and seats. To our delight, our stand was under siege during these days. We were pleased to host representatives from Pesa, Newag, Alstom, MAN, SOLARIS, Moderntrans, PIMB, Peter Renz, SIMS, Łódź Agglomeration Railway, PKP Informatyka, PKP Cargo, Pixel, Lontex, Ster, Kiel, Bombardier, Astromal, Enika, Medcom and Energa. Thank you all for visiting our stand, constructive discussions and experience exchange.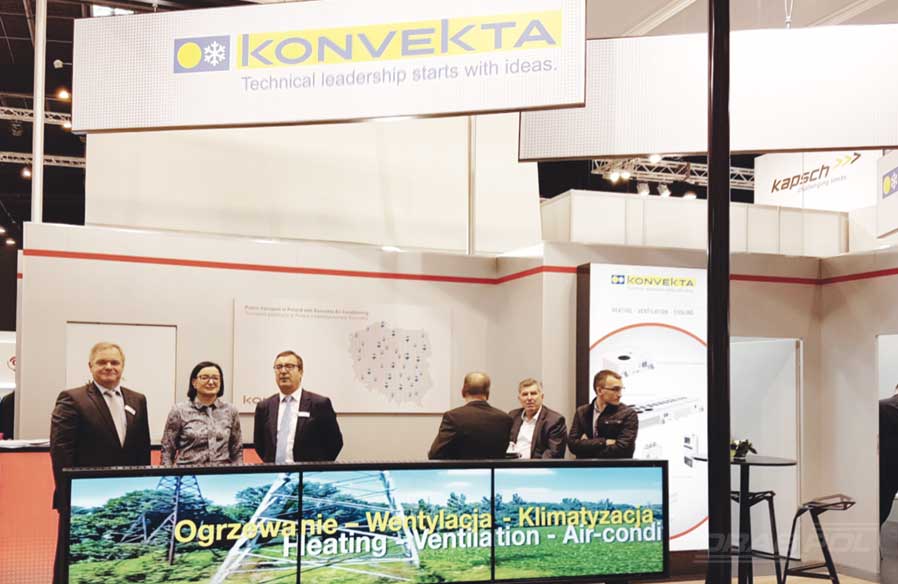 KONVEKTA AT TRAKO
This year also our German partner Konvekta. was an exhibitor at TRAKO. The manufacturer of air conditioning and chillers took part in this trade fair as an independent exhibitor for the sixth time. However, it was the first time that the exhibition was attended by Mr. Carl H. Schmitt, the founder and owner of the Konvekta company, with whom we had the pleasure to meet. At its stand Konvekta company presented a comprehensive solution providing air conditioning, heating and ventilation in rail vehicles. The system consists of air conditioning units both for passengers' compartment and for the motorman's workplace, a Frontbox, as well as doors (3) and underseat heating. The offered solutions are successfully applied in rail vehicles of the leading Polish manufacturers. Some of them were presented at Trako trade fair.

One of them was ModerusGamma tram of Modertrans company from Poznań, which was equipped with KONVEKTA HVAC system. For motorman's cab it was HVAC 3405 with HZ416 heating Frontbox, whereas the passengers could feel really comfy thanks to HVAC 6406 and heating place by the doors and under the seats. Motorman's air conditioning unit HVAC 3405 with heating Frontboxem has been also applied in Pesa Gamma locomotive. Bydgoszcz manufacturer has been installing Konvekta air conditioning units on its rail vehicles such as traction units (ETZ) or above mentioned locomotive. Apart from trams or rail vehicles Konvekta air conditioners were applied in the first in Europe hydrogen Solaris Trollino 18,75 ml trolleybus. This trolleybus is equipped with two UL500EM air conditioning units, made of very light and extremely wear-resistant construction material. Application of the material having soundproof properties together with quieter fans operation leads to the substantial decrease of noise level in the entire vehicle. Solaris Trollino trolleybus ordered by the Latvian carrier will be driving around the streets of Riga.