At the invitation of Autosan company, we took part in an annual conference organized by Sanok manufacturer for its customers, suppliers and business partners.
The conference was an opportunity for the first official presentation of a new Autosan electric bus with an electric powertrain - "SANCITY 12LFE" - prepared especially for the customers and business partners of the company. Electric bus with a strok symbol was undoubtedly the main and the most important point of the meeting, however the organizers did not forget also about other vehicles from the company's offer.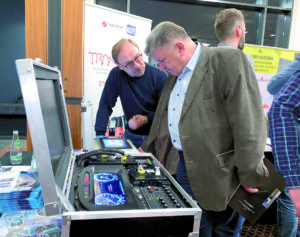 By prezenting the new electric bus, the Autosan Management Board emphasized the relation of the Polish,fully ecological bus with the historic trademark, which is a stork, associated not only with Poland, but also with a clean natural
environment.
We are very pleased that the bus incorporates our solutions.The new Sancity has been equipped with an ergonomic FAP+ driver's workplace with a 12-inch MultiViu ® Professional display. It is characterized by great flexibility in programming – both in terms of shape individualization, fitting/expansion and visualization of information depending on the driving mode and time. One of the components of Autosan bus equipment, including the new electric bus, is also on-board KIBES electronics system with MUX + and ZR+.
A permanent point of the conference is presentation of exhibitors' offer during the so called "Wieczór wystawców" (Exhibitor's evening). It was a great possibility for us to present our comprehensive solutions for the bus market at our stand. We were pleased to host the representatives of the carriers, providing services in the city and intercity passenger transport.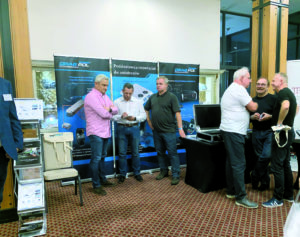 All interested visitors could get acquinted with the capabilities of the KIBES 5 system and presentation of graphic layout available on presented displays, including MultiViu Professional 12. Our offer for the bus market is much wider, and includes: ATG articulations, ContiPressureCheck system, Konvekta air conditioners for public transport buses and coaches or integrated electric powertrain systems. One of the points of the conference agenda was viewing the grand exhibition of Autosan buses located in front of the Arłamów hotel. The visitors could see the SANCITY city bus, diesel or gas -powered and of course the one with the electric powertrain, as well as EUROLIDER 9 intercity bus.
The culmination of the conference was a new bus tour across Bieszczady roads, during which the participants could directly get familiar with the advantages of the new electric bus with a stork. Finally, it is impossible not to mention the location of this year's conference – the Arłamów hotel, located in the heart of Bieszczady Mountains. During a special evening called "Arłamów bez kurtyny" (Arłamów without a curtain) all participants discovered varoious secrets of the hotel, that was integrally related with the PRL authorities. Those who succeeded, including our representatives, received a honourable certificate "Znawcy Arłamowa" (a connoisseur of Arłamów).