For the first time as an exhibitor, we took part in Busworld trade fair in Belgian Kortrijk – the biggest and the oldest (since 1971) bus and coach exhibition. At our stand we presented our own solutions dedicated to the OEM market and public transport.
We know Belgian Busworld trade fair very well. So far, we have regularly taken part in this event but at our partners' stands. This year, for the first time, we hosted our customers and business partners at our stand. Its premiere during this trade fair had our new project, which is FAPsafety+. The project – to put it briefly – is related to intersystemic integrations with personalized data visualization on Continental displays. The new FAPsafety+ was prepared by our Development and Support Departmentwhich is responsible for integration of our solutions with customers' vehicles and systems. The team comprises of engineers specializing in: electronics, IT, robotics and mechanics, who completed specific commercial and technical trainings. D&S specializes in proprietary solutions for dashboard displays, visualization of all data necessary for a driver.
By creating pioneering software solutions for a dashboard, our company developed an uncompromising and the only system of graphic and systemic personalization on the Polish market - FAPsafety+. The system allows for creation of dedicated products or solutions complying with requirements of the customers – municipal bus operators or bus manufacturers. From the very beginning of this project Drabpol was guided by the 'all-in-one' principle. The idea is to gather all driver dedicated information on a display placed in driver's workplace and thus, limit the number of additional screens, which could distract driver's attention.
A key aspect of the conducted work was to increase safety of all road users, in particular drivers and passengers, and standardize the way of informing the driver.
Both, the unification of the driver's workplace (e.g. mFAP) on all buses of the same operator and unified software are very important. There are different municipal buses, such as: diesel, hydrogen, hybrid, electric, battery powered and trolley buses. Such unification does not mean monopoly, it is safety and economic calculation. It contributes to elimination of drivers' occupational diseases and allows drivers to focus solely on the road, instead of a vehicle. All this translates into increased safety in public transport and comfort of driver's work. Currently, there are conducted works which aim at automatic settings of mFAP driver's workplace (Continental) in just 30 seconds – thanks to a unique data key programmed according to the driver's body build.
The process of inter-system integration was divided into two stages, which result in individual design (Software) and technical integration (Hardware).
Individual Design - SOFTWARE
Depending on the group of recipients, the dashboard design is adjusted in respect of operation and appearance. It is possible to combine general appearance of a display with individual location of indicators or forms of messages concerning occurring events. To emphasize personalized character, a welcome screen can be adjusted to recipient's needs. Thus, this can be both a welcome containing characters and passwords specific to a given brand or - as in case of municipal buses – to a given city, in which the vehicles are used.
Application of EyesOnRoad (EOR) technology – enables display dimming and preserving only the most urgent messages with automatic information windows in the case of critical events or warnings.
Technical integration - HARDWARE
Due to proprietary MPCB technology, it was possible for our company to integrate systems which support work and safety of drivers and passengers. Thus, solutions of independent manufacturers can be combined in one system with visualization on Continental's MVF and MVP displays. Continental VDO with its flagship product – the next generation of mFAP driver's workplace - is Drabpol's general partner in this matter.
The new mFAP offers work ergonomics and a new dimension of driver's workplace with a smart steering wheel, two configurable switch panels and an extensive package of functions. Two additional display panels enable graphical presentation of selected parameters, cooperation with additional systems, and consequently, dynamic interaction between a driver and a vehicle. An important element of the new mFAP driver's workplace is a large color high-resolution display MultiViu Professional 12. One of the most important features of this display is its flexibility of programming - flexibility in terms of shape adjustment as well as fitting/ expanding.
Style, size and color of the display can be adjusted as easily as the rest of presented data. Large 12.3-inch color high resolution display enables graphical presentation of data using spatial depth and allows for the formation of color palette, flexible shaping of information visualization depending on the mode and time of driving (screen change dependent on driving mode; automation of the driver's work, e.g. switching the view by pressing the door opening button) or situational switching between displayed information. Adjusting the color palette and contrast to the day and night mode improves readability of information and enables safe driving.
Moreover, basing on 34 years of experience Drabpol has chosen recommended products, which due to their high quality and many integration tests are the best for professional use.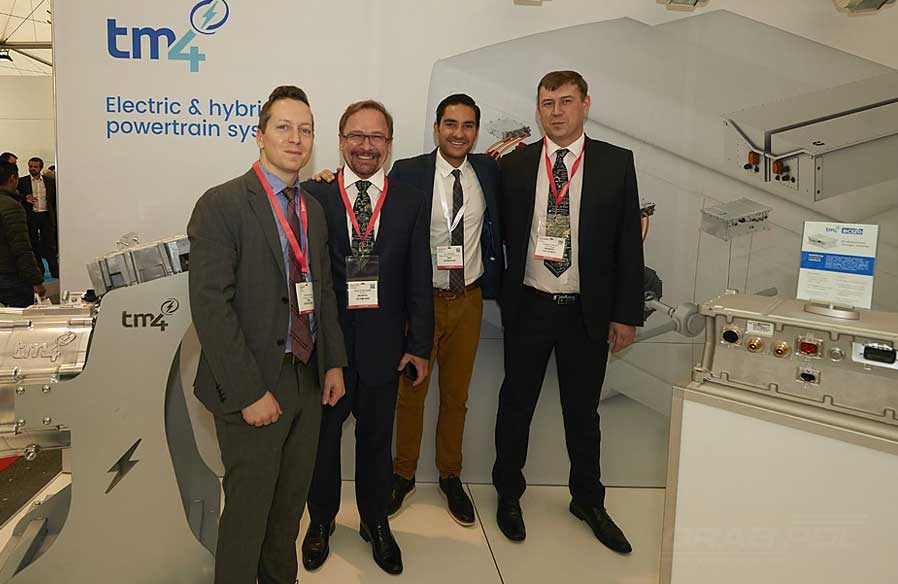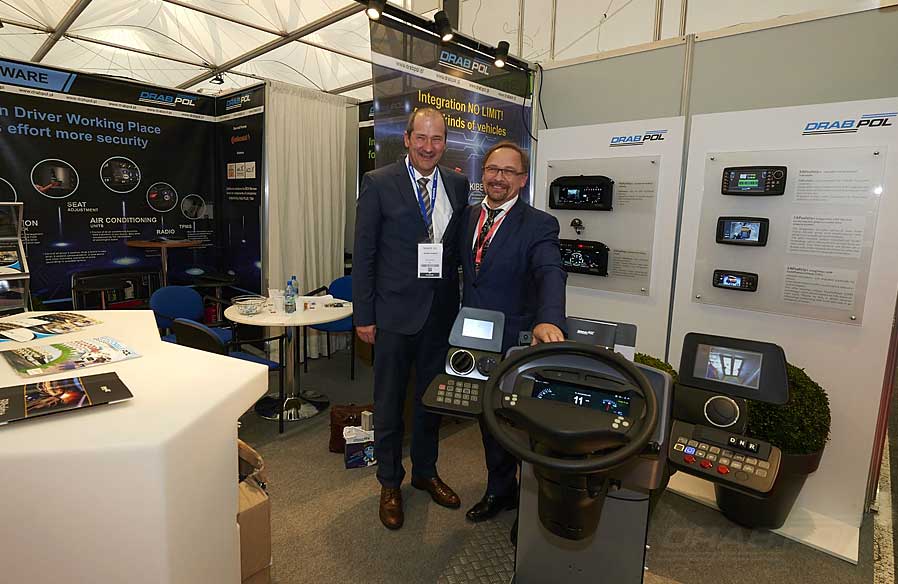 Thanks to comprehensive solutions, DRABPOL provides high-tech design of the dashboard with modern graphic elements, adjusted to Customers' needs.
Our solutions met with great interest from both the bus manufacturers and public transport companies. We were pleased to host at our stand the representatives of Polish public transport companies, as well as the vehicle manufacturers, who were also exhibitors at Busworld.
External driver supporting systems visualized on a display by Drabpol company:
Ignition interlock (ACS) ignition process management with active interlock from a driver's workplace level. Visual guide of alcohol test process
TPMS (ContiPressureCheck) – real time information on tyre pressure and temperature. Alarms and warnings are displayed in a form of parent pop-up window.Also available tyre condition overview at ignition.
Ecodriving mobile trainer - information on exceeded thresholds of engine speed, violent breaking, excessive idling and acceleration, and speeding. Information in sound and graphic form.
Electric engines – full visualization of the vehicle motor's work. Extended information on energy recovery, which supports driver's economic driving. Possible observation of normal energy flow as well as overloads and loss of power alerts
Public telematics – displaying arrival data and current timetables. The same information for a driver and passengers. Limitation of required attention through elimination of external display.
• 360 o surround view camera system – manoeuvring support and increased passengers sefety while getting on and off the bus. An image can came from four 360 ° cameras or from a single camera with enhanced view angle.
image from cameras installed inside the bus. Full view option or choice of one source. User –friendly use without absorbing driver's attention.