In November we became a business partner of a German company ATG Autotechnik GmbH, which designs and manufactures articulations and complete gangway systems, platforms and cable guides for buses, light rail vehicles (trams) and special vehicles.
As part of the established cooperation, our company will provide articulations and gangway systems for the bus market in Poland and Ukraine - for low floor and low entry buses, as well as for the pusher and trailer versions. What is important, ATG can supply the complete articulation system consisting of:
• PEI folding bellows,
• ATG centre hoop,
• ATG hose and cable guiding,
• ATG turntable cover plates,
• ATG articulation,
• Connecting chassis cross members and bolts.
We can also supply single components, such as: articulations, platform, cable guiding or centre hoop with folding bellows. Our new partner, ATG Autotechnik GmbH, has been operating on the market since 1989. For over the 28 years, ATG has provided customers around the world with over 7.000 bus articulations and around 1300 tram systems. The company headquarters with the research and development unit and the main production base are located in Siek, in suburbs of Hamburg, Northern Germany.
ATG COMPANY HISTORY:
• 1989 – ATG established to design and manufacture articulations for articulated buses.
• 1991 – ATG opens the new factory in SIEK (near Hamburg).
• 1993 – Start of serial production of : ARTIC – O – MAT Lyon pusher articulation for RVI Agora
• 1994 – ATG is ISO 9000 certified.
• 1996 – Bus Articulation number 1 000 is delivered to New Flyer Industries.
• 2000 – Bus Articulation number 2 000 is delivered to IRISBUS.
• 2008 – ATG starts the design and development of articulations for the light rail vehicles.
• 2010 – Bus Articulation number 5 000 is delivered to New Flyer of America (D60LF)
• 2010 – Tram Articulation serial production commences.
• 2015 – ATG buys the second production hall in Trittau (between Hamburg and Lubeck)
• -sale of articulation no 6800,
• -sale of tram articulation no 1290,
• -start of articulation mass production for WSW.
• 2017 – Signing a representation agreement with Drabpol on the region of Poland and Ukraine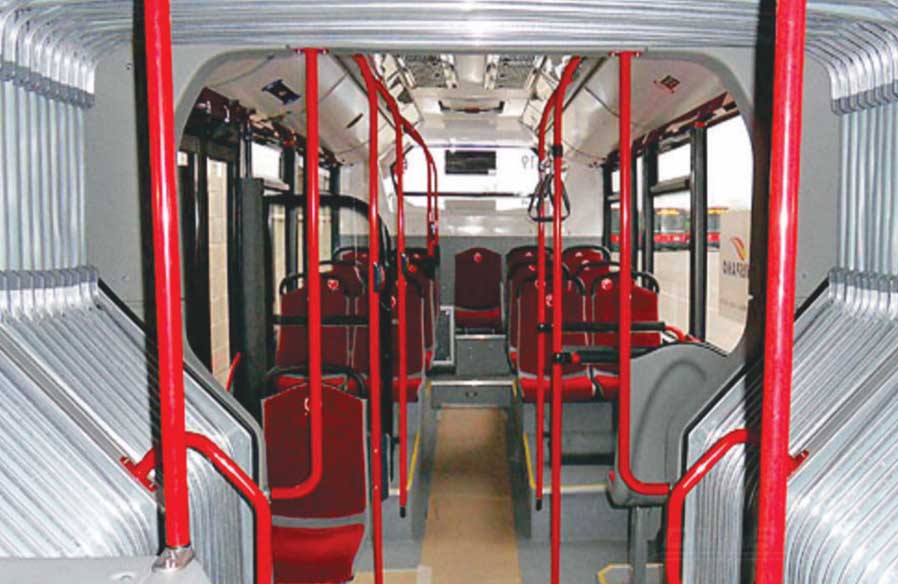 Folding bellows seen from the inside of the vehicle. Inside there are additional handrails for the passengers.
The hydraulic cylinder attached to a turntable is responsible for ensuring that the system does not bend too quickly, for the maximum bending angle of the system, and for the articulation lock, which is especially important while reversing.
At the beginning of ATG activity it was signed a cooperation agreement with the Italian company PEI – a manufacturer of folding bellows. Established in 1980, PEI company with plants in Italy and Brazil provides folding bellows for all possible solutions, for both high and low floors, as well as for a mixed system. The PEI bellows has patented design features that significantly shorten the installation time. Every new material is certified and tested in the laboratory for mechanical resistance, wear, extreme temperatures and any special customer requirements. Each new solution and design improvement is subjected to a dynamic test of at least 1 000 000 cycles on a full scale test JIG.
Another important element of the entire system is ATG ARTIC-O-MAT range of turntables, which are manufactured for both pusher and puller articulated buses. Three versions are available, one to suit every floor height.
- STANDARD – for high floor buses,
- COMPACT –for buses with an intermediate floor height,
- LIMBO – for low floor buses.
Due to cooperation with ATG, we can provide a customized and complete installation for any bus concept. Before implementation ATG articulations are subjected to development and test program like for example an extensive hydro pulse testing and in vehicle endurance testing, a complete functional check on an in house hydraulic test jig. Finally, it should be stressed that the ATG/PEI articulation systems are easy to install, robust and durable. Moreover, the appearance of the system can be adjusted to customer requirements.