In the last year we debuted as an exhibitor at the International Arms & Security Fair in Kiev. This is the second fair in the Ukrainian capital at which we promote our defense solutions. A year ago, we were present at the AVIASVIT-ХХІ fair.
The theme of this event mainly included equipment and armament, dedicated to military services, both land and air, police, border and customs guards.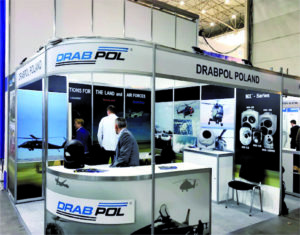 Our company has been present on the Eastern market for several years. Thanks to the certificates and authorizations we have obtained, we take part in foreign tenders and implement longterm contracts for the supply of goods and services for land forces, military aviation, police and border guards.
At our stand, we mainly promoted L3 Harris electro-optical observation systems, dedicated to manned and unmanned air vehicles. The L-3 Harris Technologies solutions themselves are well known in the Ukrainian Armed Forces.
In Kiev we presented the mock-ups of the MX-10 and MX-15 systems. The lightest imaging system among all L3 elop turrets - the MX-8 is also noteworthy. It provides high-quality images and has a low weight and small size.
For the first time at the fair, we also had the opportunity to promote training that we can independently conduct for operators of MX L3 Harris electro-optical systems. After training in the manufacturer's headquarters in the last summer, we have the authorization to train operators of MX turrets and O-level service personnel.
At Arms & Security, we promoted these solutions together with our partner Mike Rogers from L3 Harris.