Who are we?
Drabpol company has been present on the Polish market for over 30 years
From the very beginning we focus on safety in transportation (e.g. digital tachographs). Our goal is to supply customers with products, which in terms of savings and as soon as possible, bring our clients tangible effects. In order to achieve the required objectives, we have created a team of over 70 people. For coordination as well as for facilitation of their work we introduced PN - EN ISO 9001: 2009 and AQAP 2110: 2006 procedures.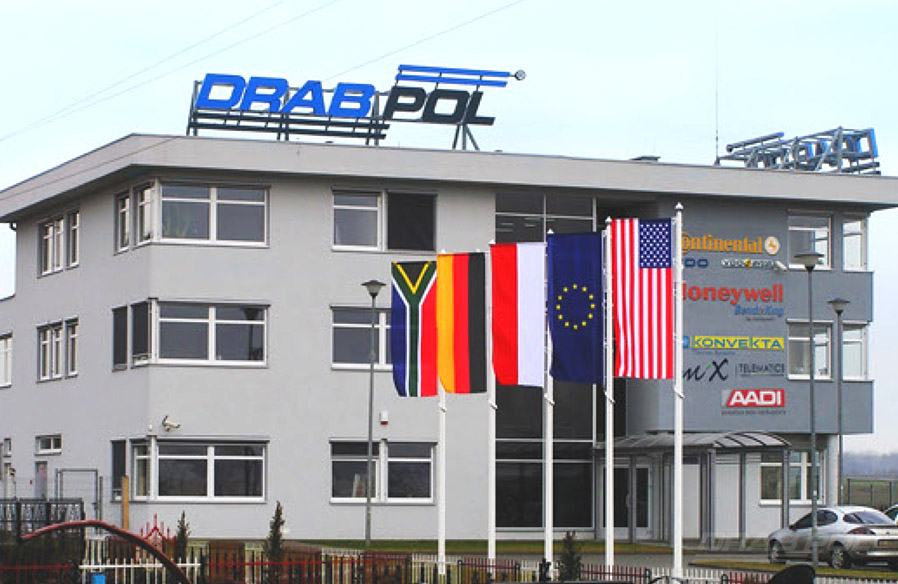 As a commercial and marketing company, DRABPOL is an importer and the main dealer (within the whole area of Poland ) of many global companies, including Continental VDO, Konvekta, Honeywell and Garmin.
Products and services provided by Drabpol have received many medals and awards. We currently have several branch offices throughout the country - Headquarters in Mykanow near Częstochowa, Exhibition and Showroom in Warsaw, branch offices at the airport in Modlin and Babice and offices in Gdynia and Lublin. In addition, we have a network of over 140 partner workshops.
Due to the fact that Drabpol operates in the sectors of road, air and water transport, there are two divisions of the company: Automotive and Avionics.
structure
we operate in three areas:

Automotive Division
Automotive Division is the oldest unit in Drabpol. It represents the strength and credibility of the company.


Avionics Division
Avionics Division appeared on the Polish business scene in order to fill the gaps on this fast growing market.

Why DRABPOL?

Setting high standards for our business partners, we ourselves have to be an example of honesty. Offering to our clients many products and services, which are also provided by other companies, we know that apart from price there are other attributes of the company, which are important for clients. For us the most important are:


01
Personnel
One of the most important factors within the company is attracting the best employees by offering them specialized trainings, good salaries and fringe benefits. Our HR Department is looking for employees who treat their work seriously and approach to their duties in a professional manner. All employees of DRABPOL are high level specialists, with appropriate competencies within their scope of duties.

02
Reputation
We want our clients to be satisfied with our services, which have been done at the appropriate time and for a fixed price. We make every effort to solve any problem in the most efficient way. We hope that every client of Drabpol becomes our regular customer.

03
Impression
We strive to make our customers feel good while visiting us. We do everything possible for each client to be attended promptly and courteously. Customers are served by our staff, who has adequate knowledge of the work they are doing. Our premises, office as well as the workshops, are always clean and well organized. The atmosphere of professionalism prevails in Drabpol.

04
Planning
It is important for every customer to be attended according to the schedule. Our staff plans works in such a way as to meet the expectations of our customers.

05
Warranty
As a representative of many global brands, our company guarantees excellent quality of offered products and services. All of them are subject to guarantees in accordance with the applicable legislation.

06
Insurance
Not all problems that may occur during service works can be predicted. It may happen that during servicing accidental damage to customer-provided elements may occur. High insurance of our company allows then to solve that problem and compensate the consequences of such unfortunate event.

LAST NUMBER
no 4 (81), October-December 2018
The end of 2018 was quite intense for us, but this is usually the case when closing the previous period. There were lots of reasons to be satisfied and proud. Our participation in the Transexpo trade fairs in Kielce has been a success. Once again, we received a trade fair medal (Medal Targów Kielce), this time for the TM 4 powertrain system for electric city buses.
A day before trade fair we were pleased to celebrate, with representatives of bus market, our "small" jubilee of the 35th anniversary of activity on the Automotive market. Certainly, the next one – 40th anniversary – will be held with great fanfare.
In this edition you can find for example:



Finally, we want to inform that from this issue we are starting publications of articles selected from the "Avionic News" magazine. This is a monthly magazine, published by the AEA Association, of which we are a member. We hope that the presented articles will be the source of useful information, as well as many trivia from the aviation world.
For the new year we wish everyone a lot of optimism, health and lots of success at every field of activity.